Meals are always better shared with friends! That's why, this last week, we collaborated with four of our favourite brands— Sol Cuisine, nuPasta, Vegcheese, and Tonica Kombucha— to create a delicious meal that brings all our strengths together. This recipe was written by @ChefMide on Instagram! Ingredients Half cup of red, orange, yellow sweet pepper each 1 Onions (chopped) 3 cloves garlic (finely chopped) 1 stalk of fresh rosemary (finely chopped) 2 stalks of fresh thyme (finely chopped) 1 teaspoon Black pepper 1 teaspoon Salt 304g of Sol Cuisine Spicy Black Bean Bites 1 pack of nuPasta Fettucine 300g of It's...
---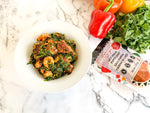 Derived from Yoruba language in Nigeria. Efo means 'green leafy vegetable' and Riro means 'to stir' so basically 'stirred vegetable'... It is stirred into a Pepper sauce base with small pieces of meat and smoked stock fish. 
---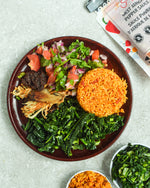 Gone are the days where you must wait 2 hours just to satisfy your jollof rice craving, slaving over the pot playing spice mixologist and stew magician just to get the right balance of flavours even before you get to the rice.