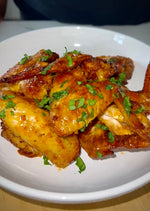 | | | |
| --- | --- | --- |
|  Prep time:  10 Mins |  Total time: 40 Mins | Serves: 1 - 2  |
Don't we love a quick yet delicious meal especially after a long day. Our simple Honey Peri -Peri Sauce is undoubtedly scrumptious, you wouldn't even want to share.
Ingredients 
1 pound fresh chicken wings
2 tsp pink salt
1 cup It's Souper Mozi PERi-PERi Sauce
2 tbsp PoksSpices Cayenne-Based West African Seasoning - original or extra spicy (for that added kick) or any brand barbecue spice
½ cup honey
½ cup chopped fresh parsley (for garnish)
Instructions: 
1.Pat dry the chicken wings, sprinkle on all sides with salt and spice then add to a ziplock bag.
2. In a separate bowl, mix the honey and PERi-PERi sauce and add 1/3 of the sauce mixture to the bag of chicken so all wings are coated. Marinade for a minimum of 30 minutes, and up to overnight in the fridge.
3. Add the chicken to air fryer cooking for approximately 30 minutes flipping chicken half way through until internal temperature reaches 165 degrees.
4. When cooked, place wings in a bowl and drizzle remaining honey PERi-PERi sauce onto wings. Lightly toss until wings are completely coated. 
6. Place wings on platter, sprinkle chopped parsley (option) serve and ENJOY!