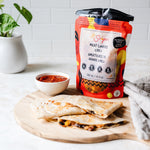 | | | |
| --- | --- | --- |
|  Prep time: 10 Min | Total Time: 40 minutes | Serves: 4 |
Get ready for a bold and flavourful experience with this spicy, delicious, and loaded quesadilla recipe. Its spicy complexity, hearty constitution, and strong savoury backbone are the ultimate crowd pleaser.
Ingredients 
4 boneless skinless chicken breast halves (5 ounces each)
4 flour tortillas (10 inches)
1 cup It's Souper Meat Lover's Chilli
1 tablespoon canola oil
1/4 teaspoon salt
1/4 teaspoon pepper
1 cup shredded Monterey Jack cheese
1 cup shredded cheddar cheese
Recipes
Season chicken with black pepper and salt. In a skillet, add oil over medium heat then add chicken until brown. Stirring occasionally, until golden and cooked through. Once Cooked cut into strips and set aside. 
In same skillet, add It's Souper Meat Lover's Chilli and simmer for 2 minutes then add chicken strips and simmer for another.
In a clean skillet add flour tortilla and top half of the tortilla with a heavy sprinkling of both cheeses, Meat Lover's and chicken mixture. Fold the other half of the tortilla over and cook, flipping once, until golden, 3 minutes per side. Repeat to make 4 quesadillas.
Slice into wedges and serve ! yum !