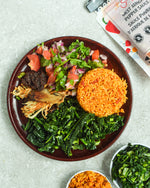 Gone are the days where you must wait 2 hours just to satisfy your jollof rice craving, slaving over the pot playing spice mixologist and stew magician just to get the right balance of flavours even before you get to the rice. I mean, just writing all of this is making me tired...
West African Pepper Sauce is a tomato-based sauce, also known as Ata Dindin, in Yoruba tribes of Nigeria and you can use this as a base to make your jollof.
Vegan Jollof Rice

Ingredients
1 300 ML bag West African Pepper Sauce

3 tbsp tomato paste

1 tsp curry powder

1 tsp veggie bouillon powder

1.5 cup well washed long grain rice (I used Jasmine)

1.25 cup of water
Directions
In a pot, combine all the ingredients except for the rice and water and let it come to a boil at medium heat
Once the sauce is boiling, add the rice and water
Turn the heat to low, cover the pot with aluminum foil and the pot's cover and let it cook at low for 35 minutes.
Keep the rice covered and AVOID opening the pot multiple times. Just check on it halfway through the cooking process to make sure that everything is combined well and not burning. This is the key to well cooked jollof.
Now, burning the Jollof rice is not always a bad idea if done right for a nice smoky flavor.
To make a smoky version (Party jollof Rice), you will need one more step. Once the rice is almost cooked, turn up the heat with the lid on and leave to "burn" for 3 to 5 minutes. You'll hear the rice crackle and it will smell toasted. Turn off the heat and leave with the lid on to until you are ready to serve.
The key is to time this burning right so that your rice doesn't end up over cooked and soggy so make sure it isn't fully cooked before starting the smoking process.
Voila! You have an amazing Jollof that you can serve with some steamed vegetables and or salad.