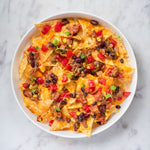 Who doesn't love nachos? It's a perfect food to share with friends and family as a snack or meal! With our Meat Lovers Chili, this nacho recipe is anything but boring.
Nacho Average Chili
Ingredients
1 

500 ML bag of Meat Lovers Chili

1

large bag tortilla chips

8

ounces

 

cheddar cheese

,

Chopped Red bell peppers.

Cilantro
Directions
Pour a 500 ML bag of Meat Lovers Chili into a pot and warm it up on low heat.
Prep all other toppings and have them ready to go (you can do this while the chili is cooking so there is no waiting). Shred cheddar cheese, chopped red peppers, and cilantro.
Preheat oven to 450°F.
Arrange the tortilla chips in a single layer on a sheet pan (or heat-proof serving platter).
Cover with half of the cheese. Repeat with another layer of chips and cheese.
Bake for about 5 minutes until cheese is melted and bubbly, watch carefully so it does not burn.
Remove nachos from the oven and top with warm chili. chopped scallions, and cilantro. Serve immediately.
You can have some sour cream on the side on add it the dish as a topping. I also add chopped green onions sometimes.
Using our Meat Lovers Chili makes this recipe process so much quicker and is a sure way to win the hearts of your guests whether you are serving these nachos for game night or just as a snack.