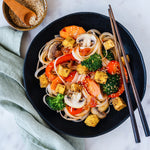 Noodles have always been one of my favourite dishes, especially stir fried noodles, because you can add whatever vegetables, sauce, and protein you want to create a dish that's unique to YOU! This recipe, using It's Souper's West African Pepper Sauce, is a delicious Afro-Asian fusion that will surely satisfy.
Ingredients
1 pack rice noodles
1 red bell pepper, sliced
1 carrot, sliced
A small head of broccoli, sliced
5-6 button mushrooms, sliced
1 onion, sliced thinly
4 cloves garlic, chopped
Protein of your choice (we used tofu for a vegan dish)
Salt and pepper to taste
Green onions, for garnish
Sesame seeds, for garnish

Instructions
Cook noodles according to package directions.
Meanwhile, in a wok, cook the protein. You can choose to marinate it beforehand or just season with salt and pepper. Remove the meat from the wok.
Add the garlic, then onion, then the rest of the vegetables to the wok and stir fry until mostly cooked.
Add the West African Pepper Sauce to the wok and stir fry until all vegetables are fully cooked.
Add noodles, stirring to coat them in the sauce.
Add cooked protein back to the wok and stir.
Top with green onions and sesame seeds and serve!