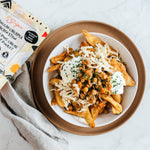 Poutine is a classic Canadian food, and we're taking it to the next level with homemade potato wedges and Moroccan Chickpea and Chicken Stew!
Ingredients
6 large potatoes, each cut into 8 wedges
1/4 cup olive oil
2 tbsp minced garlic
Salt and pepper to taste
Shredded cheese
Sour cream
Green onions, for garnish
Instructions
Preheat oven to 390ºF. Line 2 baking sheets with parchment paper, set aside
Combine oil, garlic, and salt and pepper. Toss with potatoes.
Arrange potatoes in a single layer on baking sheets, skin sides down.
Bake for 35 minutes, turning wedges halfway. Wedges should come out golden brown and  crisp on the outside. Test with a fork to make sure they are cooked fully.
While potatoes are baking, pour a 500 ML bag of Moroccan Chickpea and Chicken Stew into a pot and warm it up on low heat.
Once wedges are finished, plate them and pour the stew over them. Top off with shredded cheese and a dollop of sour cream, and add green onions for garnish.
Serve and enjoy!