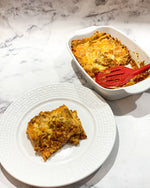 Looking for a delicious meal that's sure to satisfy? Check out this recipe that combines our Moroccan Chicken and Chickpea stew with a classic favourite, lasagna! It's a delicious and savoury meal that can satisfy the entire family.
Ingredients:
Lasagna pasta
Tomato sauce
Cheese
It's Souper Moroccan Chickpea and Chicken Stew
Instructions:
Preheat oven to 350º F and cook pasta al dente according to package instructions. Rinse under cold water.
Add tomato sauce to the bottom of baking pan and spread
Top with lasagna noodles.
On top of that, layer It's Souper's Moroccan Chickpea and Chicken Stew. Sprinkle a generous amount of cheese on top.
Layer tomato sauce, pasta, Chickpea and Chicken Stew, and cheese one again.
Cover with foil and bake for 45 minutes or until cheese layer on top is browned and bubbly.
Rest 10 minutes.
Serve and enjoy!