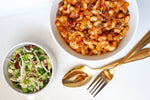 Want to add a little kick to your macaroni? We've got you covered with our Chili Mac! It pairs perfectly with a fresh salad and is a great, hearty choice for lunch any time of the year!
Ingredients
It's Souper Chili
Macaroni
Instructions:
Boil water and cook macaroni according to package instructions
In a separate pot, pour It's Souper's Meat Lovers Chili and heat up.
Once pasta is cooked and chili is hot, pour chili over the pasta and mix
Add cheese, if desired
Serve and enjoy!