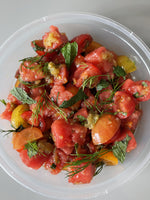 Drizzle this tangy green pepper vinaigrette over your next meal and be amazed with how much flavour this simple sauce packs! Created by Chef F.T. using our Green Pepper Sauce, this vinaigrette makes a party in your mouth. 
Ingredients
½ cup It's Souper Green Pepper Sauce

2 tbsp fresh lime juice / juice of 2 small limes

½ tsp salt

⅓ cup canola oil 
Instructions
In a stainless steel bowl, combine It's Souper green pepper sauce, lime juice and salt. 

Slowly add in canola oil while whisking until the sauce is combined. 
*Similar to salad dressings, when this sits the oil will rise to the top. Give it a good shake or stir before using to ensure the sauce is fully combined*