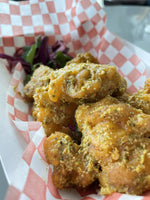 Peri Peri Cashew sauce? Yes please! Created by Chef F.T. using our Mozi Peri Peri Sauce, this nutty, spicy and flavourful sauce tastes amazing on anything!
 Ingredients
1 cup It's Souper Peri Peri Sauce

2 tbsp lime juice

1 tsp salt

½ cilantro 

½ cup roasted cashew 

¼ cup cashew milk (or any plant based milk)

2 tbsp canola  oil 
Instructions
Soak cashews in hot water for 20 mins until soft.

Combine soaked cashews and all remaining ingredients in a blender and blend till smooth. 
*You might find your sauce has a bit of texture from the cashews and that's okay :)*