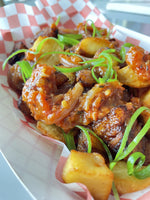 Check out this DELICIOUS bravas sauce that tastes good on anything. Created for our Vegandale event by the amazing Chef F.T., this sauce using our West African Pepper Sauce is sure to put a smile on your face.
Ingredients
1 tbsp of canola oil

¼ medium red onion 

4 cloves of garlic, minc

1 cup (1 pack)  It's Souper West African Pepper Sauce 

½ tsp dry thyme

1 tbsp smoked paprika

¼ vegetable stock 

1 tbsp corn starch slurry

1 tsp salt  (or to taste)

¼ tsp white vinegar
Instructions
In a small sauce pan, heat up 1 tbsp of canola oil on medium heat.

Thinly slice or dice your onions and cook on medium heat for 3  mins stirring often to avoid burning. 

Mince garlic and add minced garlic, smoked paprika and dried thyme to the onions, cooking for another 3-4 mins stirring often.

Pour in It's Souper West African Pepper Sauce followed by the vegetable stock and bring to a boil.

Make a corn starch slurry by mixing 1 tablespoon of corn starch with two tablespoons of waters.

 Add 1 tablespoon of your corn starch slurry to the sauce

Season with salt (to taste) bring to gentle a simmer for 10 minutes. 

Turn off the heat and stir in white vinegar to finish.