Blog — Moroccan Chickpea & Chicken Stew
The change in weather in winter, can only mean one thing - it's Cold/Flu season. Although, there are medications that will support the healing process from the flu or cold, there are also homemade options to try, specifically tasty delicious soups, to fight the disease.
---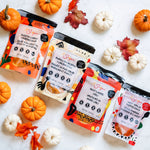 Making meals for Thanksgiving is generally stressful and time-consuming. Trying to find recipes to make it on time, can be discouraging. however; despite all that, you would gladly do it because of your family, friends, and community. So, why not make things easy and simple for you by trying these recipes for thanksgiving this fall?