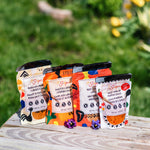 It's not a controversial statement to say that 2020 to 2021 have been pretty rough years so far. Being stuck at home, without the everyday ease of seeing friends or even coworkers and classmates, can take a toll on someone. I wouldn't necessarily consider myself an extroverted person, but I was tired of only meeting with people through screens. Plus, as a university student, it's never easy living with your family (even though you love them) while people you know live with roommates their own age.
Needless to say, I needed a break.
A couple of my high school friends felt the same way. Our group hadn't been together in a long time, and we'd only met up a few times since graduating. With COVID restrictions easing up and vaccine rollouts on the way, we decided that we wanted to plan a little getaway trip. We had rented out a beach home a few years back, so this time we chose a lake house. I wasn't sure what to expect. The photos of the house weren't the best quality and we were told there was a caterpillar and moth problem in the area. I just hoped it would be a fun getaway for a few days.
It was all that and more.
The place reminded me of the summer camps I used to go to-- complete with the log wood table and cozy sleeping quarters, as well as the canoes and kayaks. The location was gorgeous-- I finally understood why people work so hard to buy a cottage on a lake. It was difficult to imagine why you wouldn't. After spending days out on the dock and nights by the campfire, I was truly in awe of the setting. We cooked dinner together every night-- even got an It's Souper taco meal in there too!
This made me reflect on what COVID had taken away from us and how we're getting it back. As things begin to open up, I find myself trying to make plans and getting excited for every time I leave my house-- like a kid on a field trip. Even last week, when Lola and I went out to film some footage for Tiktok (follow us --  @itssouperca!), I was giddy. 
I hope this kind of feeling never fades. I think many of us-- myself included-- took real life, face-to-face interaction for granted. Now, with our phones and computers, it's easy to assume that meeting online can fill our capacity. If the past year and a half has taught me anything, it's that that's not true. While working and meeting with others online is a safe alternative, let's also never forget that being with one another is another gift altogether, and we should never take it for granted again.